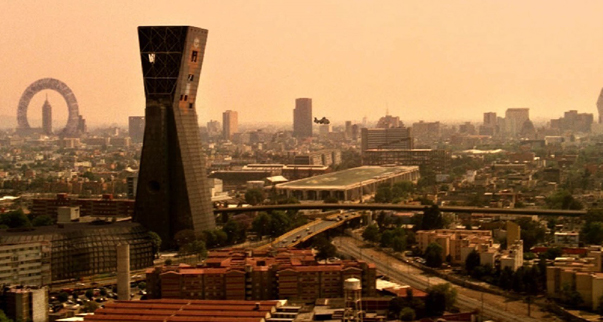 2033
Directed by: Francisco Laresgoiti
2009 | Mexico | 100 minutes
| | |
| --- | --- |
| Screening | Friday, October 6, 2017, 7pm |
Free Admission!
The first installment of a planned trilogy, director Francisco Laresgoiti's speculative sci-fi thriller finds the son of a powerful general caught in the middle of a raging class war between the privileged elite, and the downtrodden masses. In the year 2033, Mexico has become a fascist state. As the upper classes partake in debauched parties and amuse themselves by using the poor for target practice, a highly addictive drink called Pactia keeps the working class under control. Meanwhile, the religious minority forms a resistance movement, and finds an unlikely ally in the guise of privileged military brat Pablo. Despite his sheltered upbringing, Pablo knows the difference between good and evil. And once a line is drawn in the sand, he is compelled to turn against everything he's ever known in the fight for the future of humanity.

This film is presented in conjunction with the exhibition Mundos Alternos: Art and Science Fiction in the Americas, on view at UCR ARTSblock from September 16, 2017 through February 4, 2018. The film program is curated by Sherryl Vint, Director of the Speculative Fiction and Cultures of Science program at UCR, with support from Nikolay Maslov, Curator of Film and Media Projects at UCR ARTSblock.
Mundos Alternos: Art and Science Fiction in the Americas is part of Pacific Standard Time: LA/LA, a far-reaching and ambitious exploration of Latin American and Latino art in dialogue with Los Angeles, taking place from September 2017 through January 2018 at more than 70 cultural institutions across Southern California. Pacific Standard Time is an initiative of the Getty. The presenting sponsor is Bank of America.
Major support for Mundos Alternos is provided through grants from the Getty Foundation.
No reservation is required. Seating is first come, first serve. Please arrive 30 minutes prior to screening time to ensure a seat.