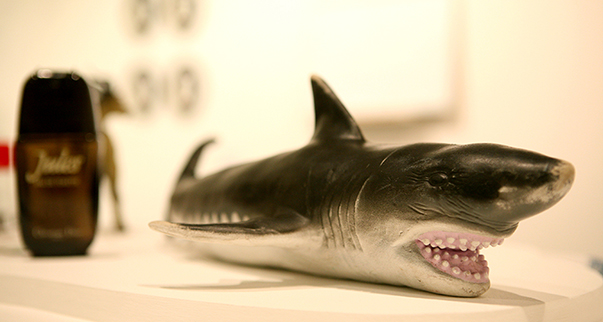 Xavier Cázares Cortéz
FINGERS ARE CROSSED just in case
Culver Center of the Arts
June 30 - August 19, 2018
Admission is free for the Artist Walkthrough (5 PM), and the reception (6-8 PM) on July 7
| | |
| --- | --- |
| Artist Walkthrough | Saturday, July 7, 2018, 5pm - 6pm |
| Opening Reception | Saturday, July 7, 2018, 6pm - 8pm |
| Conversation with Xavier Cázares Cortéz | Thursday, August 2, 2018, 6pm - 7pm |
Xavier Cázares Cortéz's FINGERS ARE CROSSED just in case is a sprawling, mixed media installation that examines the proliferation of objects and text. Comprised of a series of structural arrangements he describes as feralscapes, Cortéz employs the use of several thousand pieces from his personal archive of objects to challenge the source of their meaning, and the association to their surroundings. His sculptural arrangements integrate the tendencies found in color field paintings while appropriating institutional methodologies of archiving, collecting, organizing and exhibiting objects. FINGERS ARE CROSSED just in case reflects a visual dichotomy of organized chaos that invites the viewer to evaluate the taxonomy of things they may have possessed, and their personal association to them.

In addition to FINGERS ARE CROSSED just in case, a temporal component of the installation will be on exhibit in the atrium of the Culver Center entitled, NOTHING has changed, everything HAS CHANGED. It will be on view through July 15. After this date, it will be rearranged and presented in multiple areas of the museum throughout the course of the exhibition.

ABOUT THE ARTIST
Xavier Cázares Cortéz (b.1966) has been featured in solo and group exhibitions at various southern California art venues such as Vincent Price Art Museum, Wignall Museum of Art, Fullerton Art Museum California State San Bernardino, Plaza de la Raza, Self-Help Graphics, Santa Monica Museum of Art, Barnsdall Art Park, and Palm Springs Art Museum. His work has been shown in commercial art galleries such as Valerie Miller Fine Art, Imago Galleries, Denise Roberge in Palm Desert, and Patricia Correia Gallery in Santa Monica. He has been employed and held numerous artist-in-residencies that combined his art practice with educational programming at the Palm Springs Art Museum, Museum of Contemporary Art, Los Angeles (MOCA), Los Angeles County Museum of Art (LACMA), the Getty Foundation, Bowers Museum, Community Art Resources (CARS), HeART Project, The California Arts Project (TCAP) and others. Most recently, he has been Lecturer in Art History and Film at California State University San Bernardino, Palm Desert Campus and UCR Extension.
UCR's College of Humanities, Arts and Social Sciences and the City of Riverside have provided support.

(IMAGE) WITH A MOUTH FULL OF TEETH, from the installation, SUDDENLY WE HAD nothing, 2012. Dimensions variable. Plastic objects and etched Christian Dior cologne bottle. Courtesy of the artist. Photograph by Rodd Lindstrom.
Curator: Jennifer Frias