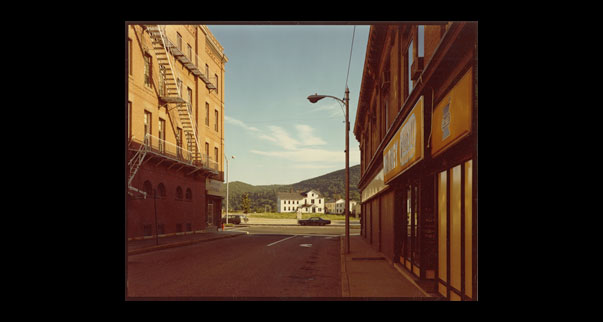 Stephen Shore: Uncommon Places
California Museum of Photography
May 24 - September 6, 2014
Given a darkroom kit for his sixth birthday and a copy of Walker Evans's American Photographs when he turned ten, Stephen Shore (b. 1947) was captivated by photography early in life, and quickly rose to prominence as an artist. At the young age of fourteen he sold three prints to Edward Steichen for the collection at the Museum of Modern Art in New York, and at 23 he became the first living photographer since Alfred Stieglitz granted a solo show at the Metropolitan Museum of Art.
In the midst of those career landmarks, Shore met Andy Warhol, who gave the teenage photographer permission to visit the Factory. Shore proceeded to spend 1965-1968 in and out of Warhol's studios, working in a variety of capacities: assisting with films, running lighting for Velvet Underground performances, and taking photographs of the Factory and the people who frequented it. This experience allowed Shore to see an artist working and making aesthetic decisions on a daily basis, and Warhol's "distanced delight in contemporary culture" awakened his own interest in everyday American life.
In 1968, Shore began a series of cross-country road trips that resulted in an extended photographic exploration of the American quotidian. Initially, these travel photographs served as a visual diary for everything Shore encountered, from the people he saw, to the meals he ate, and the beds he slept in. A meeting with John Szarkowski, curator of photography at the Museum of Modern Art, in 1972 prompted a paradigmatic shift in Shore's approach to this subject matter. Upon seeing the early road trip photographs, Szarkowski posed a very anti-Warholian question: of how accurate the viewfinder on Shore's camera was. This may have been a passing inquiry regarding Shore's use of 35-mm technology, but he surmised that Szarkowski was, in fact, questioning his attention to form and framing.
The following year, Shore began using an 8 x 10-inch view camera on his road trips, a technology typically only used by commercial photographers. Unlike the 35-mm camera, this large format allowed Shore to obtain incredibly dense detail and precisely arrange his compositions before taking the picture. However, the long exposure times of the large color negatives required Shore to eliminate movement from his photographs and necessitated the use of a tripod. Thus, Shore had to slow down and physically step back from his subject matter, creating a "distanced delight" that was forced, in a sense, by the medium itself.
This exhibition features a selection of the 8 x 10 works used in the 1982 Aperture publication, Uncommon Places. These photographs show Shore's exploration of America and how a sense of his journey was conveyed through serial imagery. Furthermore, this project evidences Shore's investigation of photography as a medium—a journey by which he attempted to understand how formal elements could be used to construct a visually coherent image and the most common scenes could become uncommon visual experiences. This reflects a greater change in Shore's photography: a movement away from the ephemeral, disposable snapshot towards an aestheticized, more highly finished form of fine art.
Stephen Shore: Uncommon Places was curated by Reva Main, Collections Assistant & UCR Art History MA student
Stephen Shore (United States, b. 1947), Holden Street, North Adams, July 13, 1974, C-print. Gift of Jonathan Green and Wendy Brown, 2013. © Stephen Shore.