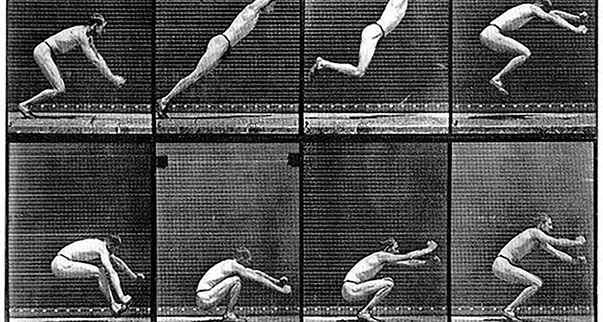 Still: Movement + the Body Through the Lens
From the Permanent Collections at UCR ARTSblock
California Museum of Photography
January 28 - February 18, 2017
| | |
| --- | --- |
| Reception | Thursday, February 2, 2017, 6pm - 8pm |
| the river knows (Performance) | Thursday, February 2, 2017, 7:00pm - 7:30pm |
Still: Movement + the Body Through the Lens represents the complex and diverse approaches artists have devised utilizing the photographic lens to capture the physical and psychological limits of the body. The works selected for this exhibition showcase the breadth of historical and contemporary imagery housed in the California Museum of Photography and the Sweeney Art Gallery at UCR ARTSblock. Works by Eadweard Muybridge, Barbara Morgan, Phillippe Halsman, Fritz Haeg, D. Hill, and Kent Anderson Butler represent multiple depictions of the body through both photography and video. 

Still: Movement + the Body Through the Lens, From the Permanent Collections at UCR ARTSblock is organized by Jennifer Frias, Associate Curator, Sweeney Art Gallery; Nikolay Maslov, Curator of Film and Digital Projects, Culver Center of the Arts; and Kathryn Poindexter, Interim Assistant Curator, California Museum of Photography. UCR's College of Humanities, Arts and Social Sciences (CHASS) and the City of Riverside have provided support. Gifts represented in the exhibition include those from the artists, along with collectors Margorie Neikrug, David C. and Sarajean Ruttenberg.

RELATED PROGRAMMING

Performance of the river knows (work in progress), Crystal Sepúlveda
February 2nd, 2017 - 7pm
the river knows is a work that came to life in June 2016 down by the Santa Ana River, specifically the stretch that runs through Riverside, CA. It is a work that meditates on the connection between women, mother/land, healing, and water.
Eadweard Muybridge, "Man performing standing broad jump," c. 1887. From the collection of the California Museum of Photography.