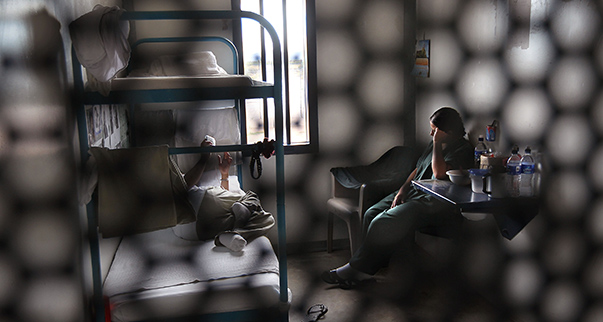 States of Incarceration
A National Dialogue of Local Histories
California Museum of Photography
May 7 - August 6, 2016
| | |
| --- | --- |
| Public Discussion (off-site) | Saturday, May 21, 2016, 3pm - 5pm |
| Reception (at the museum) | Saturday, May 21, 2016, 6pm - 9pm |
| Related Performance (Culver Center) | Saturday, June 4, 2016, 7pm |
The California Museum of Photography presents States of Incarceration, a traveling multimedia exhibit that explores the history and future of mass incarceration in the United States. Today, the US incarcerates more of its population than any other country in the world and at any other moment in its history, with deep racial disparities in the system reinforcing inequalities in American society. How did this happen? What can we learn from the past? How can we shape a different future?
To answer these questions, 20 teams of university faculty, students, and community organizers in 17 states each contributed a "chapter" in this history to create States of Incarceration. Histories include how a slave plantation in Louisiana became the infamous Angola prison; how the Dakota Wars left legacies of high rates of Native American incarceration in Minnesota (paralleled by high indigenous incarceration rates nationwide); and how numbers of immigration detention centers have skyrocketed. UCR's focus on the criminalization of youth—especially youth of color in Southern California—traces histories of state violence from the turn of the 20th century, when Whittier State School for "juvenile offenders" and Riverside's Sherman Institute for Indians were founded, to mid-century public fears of juvenile delinquency, to gang injunctions, racial profiling, and policing of youth in schools today. Yet, as States of Incarceration highlights, in the face of these challenges, youth, alongside their elders, resist criminal labeling, and fight for change.
Using historic photographs, recent journalism, audio and video interviews, data visualization, and artwork, the exhibit brings local stories to bear on the national dialogue. Together they chart a genealogy of the incarceration generation, acknowledge the traumatic multigenerational effects on communities, and identify national narratives important for building paths to a more restorative future. The exhibit is augmented with a web platform (statesofincarceration.org), public programs, and a podcast series.
The exhibit will be launched with a special off-site discussion, "Youth Justice in the Inland Empire," on Saturday, May 21, 3-5pm, at Riverside's historic Universalist Unitarian Church (3525 Mission Inn Avenue, Riverside, CA 92501), featuring the organizations All of Us Or None, DuBois Institute, Inland Congregations United for Change, and Youth Justice Coalition, and scholars Miroslava Chávez-García, Professor of Chicana/o Studies at UC Santa Barbara, and Dylan Rodríguez, Professor and Chair of Ethnic Studies at UCR. Following the discussion, join participants in a public reception at the California Museum of Photography, 6-9pm. Both events are free and open to the public.
States of Incarceration: A National Dialogue of Local Histories is organized by the Humanities Action Lab (HAL), a coalition of 20 universities based at the New School, New York. Participating universities are Arizona State University, Brown University, DePaul University, Duke University, Indiana University-Purdue University Indianapolis, Northeastern University, Parsons Paris, Rutgers University-Newark, Rutgers University-New Brunswick, Skidmore College, The New School, University of California-Riverside, University of Connecticut, University of Massachusetts-Amherst, University of Miami, University of Minnesota, University of New Orleans, University of North Carolina-Greensboro, University of Texas-Austin, and Vanderbilt University.
UCR's participation in HAL is led by Catherine Gudis, Associate Professor of History, and Director of the Public History Program at UCR, and Molly McGarry, Associate Professor of History at UCR. UCR's contributions to States of Incarceration were curated by Catherine Gudis and graduate and undergraduate students at UCR: Pamona Alexander, Mayela Caro, Julia Franco, Marissa Friedman, Felipe Galvan, Alice Lapoint, Max Loder, Alan Malfavon, Sonia Mehrmand, Emely Mondragon, Micah Padilla, Grace Pankau, Christina Pappous, Emily Pasqueletto, Clare Pope, Christopher Rivas, Meranda Roberts, and Torri Williams. Key advisors to the project were Miroslava Chávez-García; Molly McGarry; Dylan Rodríguez; and Megan Asaka, Assistant Professor of History at UCR. The ARTSblock presentation of States of Incarceration was coordinated by Joanna Szupinska-Myers, CMP Curator of Exhibitions, and Zaid Yousef, ARTSblock Exhibition Designer, with Kathryn Poindexter, CMP Curatorial Assistant.
States of Incarceration was made possible in part by the Institute of Museum and Library Services; National Endowment for the Humanities; Whiting Foundation; Open Society Foundations; and TenLegs. Exhibition design and fabrication by Matter Architecture Practice; exhibition identity and graphics design by Pure+Applied. Support for the exhibition and public programs at UCR was generously provided by the Office of the Dean, College of Humanities, Arts, and Social Sciences (CHASS); Center for Ideas and Society, Humanities Interdisciplinary Program; Office of Undergraduate Education; department of History; department of Ethnic Studies; department of Theatre, Film, and Digital Productions; Friends of Public History; Blum Initiative on Global and Regional Poverty, an affiliated research center of the UCR School of Public Policy; Center for Healthy Communities of the UCR School of Medicine; and the City of Riverside.
Image: Immigration Detention Center, Eloy, Arizona (detail). Photo by John Moore. Courtesy Getty Images.