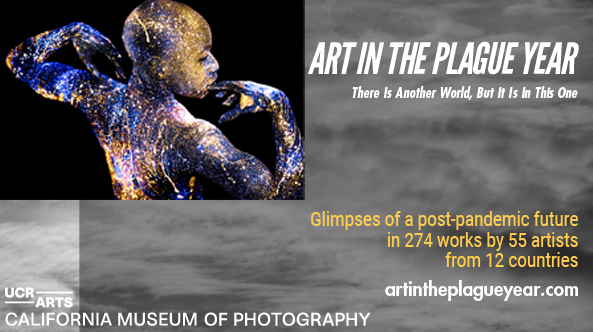 Art in the Plague year
Online Exhibition
California Museum of Photography
Visit the online exhibition at artintheplagueyear.com
There is Another World, But It Is in This One

History tells us that pandemics are portals to new futures. "There is another world," said Surrealist poet Paul Éluard, "but it is in this one." Art in this exhibition is anchored in the plague year, but all of it, in varied measure, looks to the future. Artists are keen observers and virtuosic dreamers. This work offers hints about means of change and pathways forward. It puts forth hunches, illuminations, and confident loose ends. Taken together, these artists let a sense of the future leak into the present. 

This exhibition contains photographs, videos, drawings, audio pieces, and multi-media art by 55 artists from around the world. They are drawn from an avalanche of interest—thousands of pieces made by 664 artists. We have divided the exhibition, a bit arbitrarily, into eight themes. 2020 was a year of beauty, pain, and strangeness. It cut through us like a knife. The coronavirus laid bare societal inequities, racial rifts, and economic injustices. Artists, meanwhile, did what they always do: respond, create, make sense, guide us into the future. And for that, we thank them.
Artists: Aaron Giesel; Amy Regalia; Andrew K. Thompson; antoine williams; Baldomero Robles Menendez; Ben Grosser; Bill Green; Bootsy Holler; Caity Fares; Cambria Kelley; Darryl Curran; Deanne Sokolin; Ens/centrado Collective and Gabriela Elena Suárez; Evelyn Corte Espinosa; Evy Jokhova; Fernando Velazquez; Gaby Lobato; Gionatan Tecle; Ines Oliveira e Silva; Jean-Baptiste Maitre; Jeff Frost; Jill Miller; João Ferro Martins; Jody Zellen; John Divola; Julia Schlosser; Karchi Perlmann; Karen Constine; Karl Baden; Kate Warren; Katrina; Lillian Sorrentino; Kiliii Yüyan; Lewis deSoto; Lilli Waters; Lois Notebaart; Mark Holley; Mark Indig; Mikael Owunna; Molly Peters; Nadezda Nikolova-Kratzer; Peter Wu+/EPOCH Gallery; Qianwen Hu; Sandra Klein; Sapira Cheuk; Sara & André; Sara Jane Boyers; Sergio Ximenez; Sheila Pinkel; Simon Penny and Evan Stanfield; Stefano Morrone; Stephanie Syjuco, Jason Lazarus, and Siebren Versteeg; Tony Fouhse; Tyler Stallings; United Catalysts (Kim Garrison and Steve Radosevich); Wayne Swanson.
Art in the Plague Year is an online exhibition organized by UCR ARTS: California Museum of Photography and curated by Douglas McCulloh, Nikolay Maslov, and Rita Sobreiro Souther. UCR ARTS's programs are supported by UCR College of Humanities, Arts and Social Sciences, the City of Riverside, Altura Credit Union, and Anheuser-Busch.