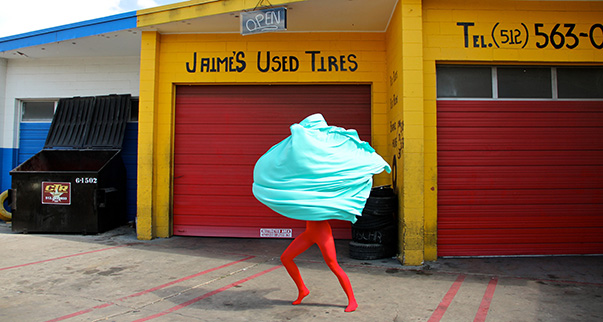 Mundos Alternos
Art and Science Fiction in the Americas
UCR ARTS
September 16, 2017 - March 18, 2018
| | |
| --- | --- |
| Opening Party | Saturday, September 30, 2017, 6pm - 9pm |
The de-installation of Mundos Alternos: Art and Science Fiction in the Americas has begun but many artworks remain on view. Don't miss your opportunity to see the remaining works before they are gone!

UCR ARTSblock presents Mundos Alternos: Art and Science Fiction in the Americas. A wide-ranging survey exhibition, it brings together contemporary artists from across the Americas who have tapped into science fiction's capacity to imagine new realities, both utopian and dystopian. Science fiction offers a unique artistic landscape in which to explore the colonial enterprise that shaped the Americas and to present alternative perspectives speculating on the past and the future. In the works featured in the exhibition, most created in the last two decades, artists employ the imagery of science fiction to suggest diverse modes of existence and represent "alienating" ways of being in the world. Drawing on UCR's strong faculty and collections in science fiction, the exhibition offers a groundbreaking account of the intersections among science fiction, techno-culture, and the visual arts.
Mundos Alternos brings together the work of international artists from across Latin America with Latino artists from throughout the United States: 
ADÁL
AZTLAN Dance Company
Guillermo Bert
Erica Bohm
Tania Candiani
Beatriz Cortez
Beatriz Cortez and Rafa Esparza
Claudio Dicochea
Faivovich & Goldberg
Sofía Gallisá Muriente
Guillermo Gómez-Peña / La Pocha Nostra
La Gravedad de los Asuntos (Nahum and Ale de la Puente) with selected participants Tania Candiani, Juan José Díaz Infante, Nahum, Ale de la Puente
Hector Hernandez
Gyula Kosice
LA VATOCOSMICO c-s
Robert "Cyclona" Legorreta
Chico MacMurtrie / Amorphic Robot Works
Marion Martinez
MASA—MeChicano Alliance of Space Artists (Luis Valderas and Paul Karam) with selected participants Luis "Chispas" Guerrero, Sergio Hernández, Debora Kuetzpal Vasquez, Miguel Luciano, Laura Molina, Tony Ortega, Raul Servin, Luis Valderas
Jillian Mayer
Mundo Meza
Guadalupe Maravilla (formerly Irvin Morazán)
Glexis Novoa
Rubén Ortiz Torres
Rigo 23
Alex Rivera
Clarissa Tossin
Carmelita Tropicana
Luis Valderas
Ricardo Valverde
José Luis Vargas
Simón Vega
Mundos Alternos is curated by Robb Hernández, Assistant Professor of English at UCR; Tyler Stallings, Artistic Director of the Culver Center of the Arts; and Joanna Szupinska-Myers, Senior Curator of Exhibitions at the California Museum of Photography. Kathryn Poindexter, CMP Assistant Curator, is Project Manager.
Mundos Alternos is part of Pacific Standard Time: LA/LA, a far-reaching and ambitious exploration of Latin American and Latino art in dialogue with Los Angeles, taking place from September 2017 through January 2018 at more than 70 cultural institutions from Santa Barbara to San Diego, and from Los Angeles to Palm Springs. Pacific Standard Time is an initiative of the Getty. The presenting sponsor is Bank of America. 
Major support for this exhibition is provided through grants from the Getty Foundation.
Additional support is provided by UCR's College of Humanities, Arts, and Social Sciences (CHASS), and the City of Riverside.
View Riverside Art Museum's exhibition Myth & Mirage: Inland Southern California, Birthplace of the Spanish Colonial Revival, also part of Pacific Standard Time: LA/LA, during a concurrent Opening Celebration on September 30, 6:00-9:00pm.

For more information about the Pacific Standard Time: LA/LA initiative, visit http://www.pacificstandardtime.org.