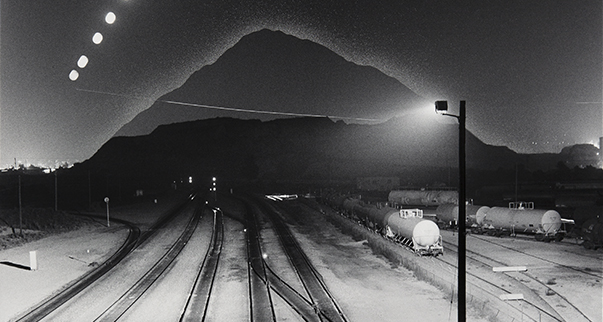 In the Sunshine of Neglect
Defining Photographs And Radical Experiments in Inland Southern California, 1950 To The Present
California Museum of Photography
January 19 - April 28, 2019
| | |
| --- | --- |
| Winter Opening Reception | Saturday, January 19, 2019, 6pm - 9pm |
Freedom can be found at the margins. That is the theme of a first-ever survey exhibition opening January 19, 2019. In the Sunshine of Neglect: Defining Photographs and Radical Experiments in Inland Southern California, 1950 to the Present is a simultaneous two-part exhibition at UCR ARTS: California Museum of Photography and the Riverside Art Museum. The show presents the title's territory on the eastern edge of the Los Angeles Basin as an experimental tabula rasa playground for photographers, where nothing was at stake, so everything was possible.
In the Sunshine of Neglect includes 194 works by 54 photographers, including Kim Abeles, Ansel Adams, Robert Adams, Yolanda Andrade, Lewis Baltz, Noah Berger, Laurie Brown, Rachel Bujalski, Bystedt & Egan, Judy Chicago, Will Connell, Joe Deal, Lewis deSoto, John Divola, Christina Fernandez, Judy Fiskin, J. Bennett Fitts, Robbert Flick, Corina Gamma, Anthony Hernandez, Ellen Jantzen, Ron Jude, Hannah Karsen, Sant Khalsa, Meg Madison, Tony Maher, Alia Malley, Ken Marchionno, M. Robert Markovich, Douglas McCulloh, Thomas McGovern, Mark McKnight, Kurt Miller, Richard Misrach, Chelsea Mosher, Kenda North, Naida Osline, Stuart Palley, Leopoldo Peña, Ryan Perez, Herb Quick, Catherine Ruane, Mark Ruwedel, Allan Sekula, Julie Shafer, John S. Shelton, Julius Shulman, Joel Sternfeld, Kim Stringfellow, Hiroshi Sugimoto, Larry Sultan, Andrew K. Thompson, Brett Van Ort, and Aashanique Wilson.  It is curated by artist and UCR ARTS: California Museum of Photography Senior Curator Douglas McCulloh.
Inland Southern California is a region of 4.5 million people, but it is also a periphery. Established photographic artists and rising experimentalists have long used the area as a laboratory. The visions of these artists—experimental, hard-eyed, and imaginative—influenced the course of contemporary art and photography. In the Sunshine of Neglect is the first exhibition to survey this remarkable history.
The region where the experiments took place is startlingly free of iconography: no Santa Monica Pier, no Hollywood sign, none of the signifiers of Los Angeles. "If you wanted to pick a defining symbol," explains McCulloh, "it'd be hard to do so. Perhaps a standard stucco tract home? Pick any of ten thousand; they're fairly interchangeable." This lack of iconography leaves the artists free to look, and the strange expanses of Inland Southern California are conducive to new vision. The "hugely varied topography—valleys, rivers, mountains, deserts, and urban sprawl," sliced by fault zones and "ofttimes beset by fire or flood" offered a "tabula rasa strangeness," McCulloh comments. The artists' work also helps define the aesthetic identity of America's 13th most populous urban area, a region of 27,000 square miles. 
The result of the alchemy is that the artists discover new directions and the landscape becomes "grounds for change" in photography itself. The exhibition demonstrates this historic relationship particularly clearly in the work of New Topographics photographers Robert Adams, Lewis Baltz, and Joe Deal, who are well represented among the show's 194 works. All spent formative years in the region, Adams went to school at the University of Redlands, Baltz attended Claremont Graduate School, and Deal taught at the University of California, Riverside.  
The exhibition also implies that this ground remains fertile. Among the newer photographers, collaborators Amy Bystedt and Sally Egan have turned their attention to re-creating a psychographic landscape of both a time and a place that no longer exist. Going far, far beyond the debate of where truth lies in the photographic image, Bystedt and Egan's Fotomat series, completed in 2015, is "translocated from the weirdly utopian heart of the 1970s. They are photographers, casting agents, location scouts, prop managers, set designers, wardrobe, stylists, models, and post-production crew. Every person in every photo—including every disembodied arm or truncated leg—is Bystedt or Egan. Beyond that, the place is theirs as well. The locales are scattered across the inland region, centered in Ontario, Pomona, and vicinity. It is entirely contemporary, but casts its modern gaze to a disappeared world. The settings, clothing, and style are 1970s, all fabricated to be photographed.
The exhibition, which runs until April 28, 2019, is accompanied by a complete catalogue (274 pages, $45), published by the Inlandia Institute. The Riverside Art Museum is located at 3424 Mission Inn Ave., Riverside, CA 92501. The exhibition sites are three-and-a-half blocks apart. 

Exhibit Related Programming
Opening Reception
Saturday, January 19, 2019, 6 p.m.–9 p.m. | Location: RAM and UCR ARTS
Please join the curator and the artists for a celebration of In the Sunshine of Neglect, a joint exhibition held concurrently at RAM and UCR ARTS: California Museum of Photography, and its catalogue.

Conversations at the Culver: Deep Roots/Rooting Around
Sunday, February 3, 2019, Gallery Tour: 12:30 p.m., Panel Discussion: 1:30 p.m. | Location: UCR ARTS
Kim Abeles, John Divola, Lewis deSoto, and Sant Khalsa discuss their extended engagement with the inland region personally and artistically.
Roundtable at RAM: Eyes Wide Open–Discoveries in the IE
Sunday, February 24, 2019, Gallery Tour: 12:30 p.m., Panel Discussion: 1:30 p.m. | Location: RAM
Robbert Flick, Ken Marchionno, Susan Straight, and Kim Stringfellow share their inland discoveries and how their finds inspired their work.
IE Experiments: Short Films from Inland Southern California
Saturday, March 9, 2019, Gallery Tour: 2 p.m., Film: 3 p.m. | Location: UCR ARTS: Barbara & Art Culver Center of the Arts
A screening of Desert by Stan Brakhage, one of America's most important non-narrative experimental filmmakers plus short films of the IE by various independent filmmakers.
This project was made possible with support from California Humanities, a non-profit partner of the National Endowment for the Humanities. Visit www.calhum.org.

Image: Lewis deSoto, Tahualtapa, Hill of the Ravens, 1983-1988. Collection of the California Museum of Photography at UCR ARTS.

Curator: Douglas McCulloh