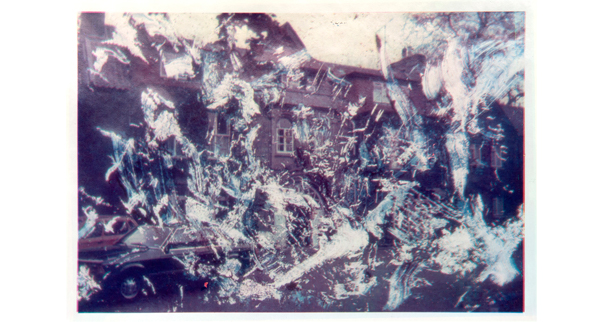 Analogues:
Doug Harvey
California Museum of Photography
February 1 - August 2, 2020
| | |
| --- | --- |
| Winter Opening Reception | Saturday, February 29, 2020, 6pm - 8pm |
Doug Harvey's Moldy Slide Project began with a chance discovery of a cache of discarded amateur photographic transparencies dating back to the 1970s in the piles of material being disposed of during an apparent hoarder intervention. The once personal narrative contained in the travel photographs had been altered, obscured and even destroyed by the natural processes of decay and the ravages of time in a manner analogous to the effects of memory loss. Harvey performs an act of diversion by turning this pile of refuse back into a commentary on cultural amnesia and decay, using the slide projector, an apparatus deeply connected to feelings of nostalgia. As a performance, Harvey projects a curated sequence of 150 images in a slideshow accompanied by live improvisational noise music, taking on what art critic Shana Nys Dambrot called "a conceptual/semantic level, introducing issues of authorship, truth, transcendence, intention, control, chaos, narrative, meaning, and analog physicality into a larger conversation about photography in the digital era."
As a series, Analogues features work by contemporary artists whose image-making resonates with the themes presented in the permanent collection gallery. 
UCR's College of Humanities, Arts and Social Sciences and the City of Riverside have provided support.
Image: Doug Harvey, Die Leiden Des Jungen Werthers [The Sorrows of Young Werther], 2020, from the Moldy Slides Portfolio: Erinnerungen an Verlassene Zukünfte [Memories of Abandoned Futures], 3-color carbon transfer, printed and published by The ƒ/Ø Project.
Curator: Barret Oliver