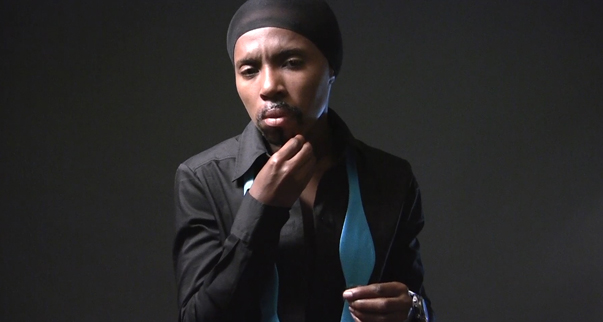 D Hill: T R A N S
Culver Center Digital Mural Projects 2015-2016
Culver Center of the Arts
November 14 - December 28, 2015
Admission to the opening reception is free to the public.
| | |
| --- | --- |
| Reception | Saturday, November 14, 2015, 6pm - 9pm |
T R A N S is a fraction of the work presented in the exhibition Second Wave: Aesthetics of the 80s in Today's Contemporary Art at the Culver Center of the Arts and the Sweeney Art Gallery from November 14, 2015 through March 19, 2016. It observes media's influence on performative gestures associated with masculinity and femininity. Channeling the hypersexualized media advertising of the 1980s, artist D. Hill presents the state of trans sexuality from a female perspective through the juncture of sex, beauty and gender.

D. Hill received his MFA in Creative Photography at California State University, Fullerton. As an interdisciplinary artist, his work surveys identity through cultural and/or gender lens. His work has been exhibited at venues such as Lift Gallery (Greensboro, North Carolina), Orange County Center for Contemporary Art (Santa Ana, CA), 57 Underground and dA Center for the Arts (Pomona, CA), City of Brea Art Gallery (Brea, CA), LA Phantom Galleries (Long Beach, CA),  For Your Art Gallery (Los Angeles, CA), and Tarrant County College in Dallas, TX. He lives and works in Orange County, California.

The Culver Center Digital Mural Project 2015-2016 series is curated by Jennifer Frias, Associate Curator, Sweeney Art Gallery at UCR ARTSblock. The Culver Center Digital Mural Project at UCR ARTSblock's Culver Center of the Arts presents a series of changing projects on the two screens inside the façade's glass kiosks that face the pedestrian mall. These projects are an opportunity to extend ARTSblock programming into the public space. UCR's College of Humanities, Arts and Social Sciences (CHASS) and the City of Riverside have provided support.

Image: D Hill, "T R A N S," (video still), 2014