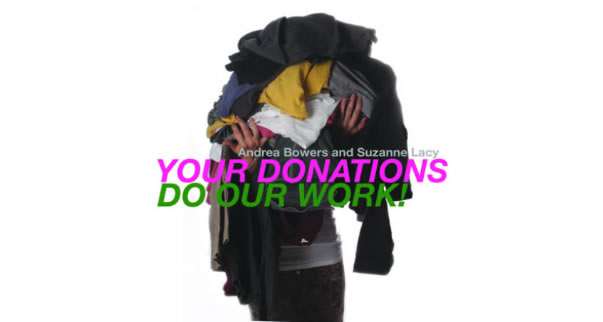 Your Donations Do Our Work
Andrea Bowers and Suzanne Lacy
Sweeney Art Gallery
January 31 - March 28, 2009
| | |
| --- | --- |
| Opening Reception | Saturday, January 31, 2009, 6pm - 10pm |
Consisting of a new collaborative performance installation presented alongside the juxtaposition of past works, Suzanne Lacy and Andrea Bowers utilize clothing, fabric, simple public rituals, and community organizing to look at labor, class, race and gender. It is their first collaboration, and one that signals a re-engagement of younger generation with the legacy of a previous generation of feminist activists/artists. Organized by UCR Sweeney Art Gallery, curatorial team of Tyler Stallings, Shane Shukis, Jennifer Frias, and Georg Burwick.

Collection point: bring your cast-off clothes and household items to Sweeney throughout the exhibition for their installation. Opening night price of admission: one bag full.

Media sponsor for Your Donations Do Our Work is THE, LA's monthly magazine of and for the arts.
Supported by Riverside Marriott