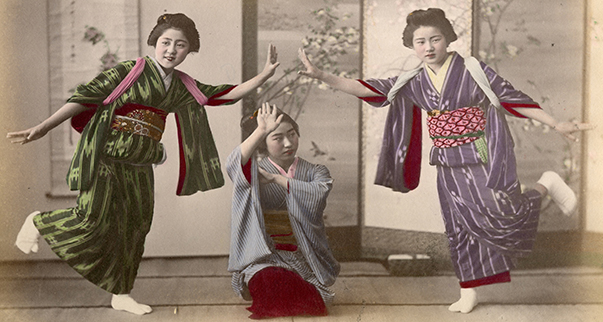 Posing Japan
Photographs by Kusakabe Kimbei
California Museum of Photography
December 20, 2014 - July 3, 2015
This exhibition of hand-colored photographs by Kusakabe Kimbei (1841-1934) highlights the complexity of depicting nineteenth-century Japanese culture. Trained by European photographers living in Yokohama, Kimbei was one of the first Japanese artists to establish his own independent studio. He is known for images that portrayed Japan as an exotic cultural landscape for Western eyes, and the technique of hand-coloring the photographed images. This practice of painting over photographs redefines the medium, and thus acts as an artistic Japanese intervention to Western technology.

Kimbei produced an array of hand-painted souvenir photographs that were selected by his customers, and compiled in lacquered albums. This tactile process of "collecting" visuals of Japan demonstrates foreigners' desires to record journeys through an idealized nation. Images of women, children, and picturesque landscapes depict a vision of "traditional" Japanese culture marketed to tourists. The majority of photos produced by Kimbei depicted women who were posed to represent a Japanese feminine ideal. Furthermore, the posing of individuals in an effort to highlight "otherness" in Kimbei's souvenir photos reveals the pattern of Western consumption of Orientalist fantasies during the nineteenth century, a time of increased relations and tensions between Japan and the West. However, emotional expressions of the people depicted introduce a counter-gaze and narrative that subtly resists these Orientalizing attempts by creating a personalized encounter with the viewer.

Kimbei's technique of hand-painting photographs shapes the medium into something transcendent and distinctively Japanese. His images challenge a Western lens by fusing new technology with compositions, subjects, coloring, and styles that recall Japanese woodblock prints and paintings. This balancing between Japanese and Western media parallels national tensions concerning the degree that Japan should adopt foreign tools and technology, contrasted with a desire to preserve indigenous traditions and practices.

This exhibition was curated by Astara Light, CMP Collections Intern and UCR MA student in Southeast Asian Studies and the History of Art.