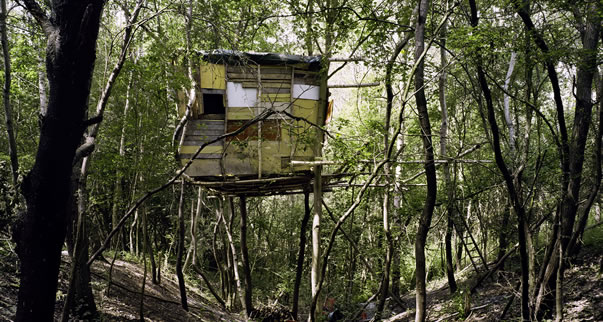 Mirjam Dröge
The Need to Hold Still
California Museum of Photography
February 6 - May 15, 2010
| | |
| --- | --- |
| Opening Reception | Saturday, February 6, 2010, 6pm - 9pm |
| Opening Reception | Saturday, February 6, 2010, 6pm - 9pm |
Mirjam Dröge pictures compelling psychological and physical spaces - spaces for escape, memory, and child-like reverie. This exhibition, which takes its title from a poem by the German-American writer Lisel Mueller, will feature a range of photographs completed by the artist over the past five years.

The series aber unter der Decke, da muss es ganz dunkel sein (but under the cover it must be completely dark) includes images of clandestine tree-houses built by children in various German towns, fabric forts that the artist has created based on photographs from her childhood, and several introspective self-portraits. The project von der Abwesenheit (of the absence) consists of photographs made in Dröge's grandfather's home. The artist used yellow tape to outline objects that she associated with her grandmother, which were removed from the house or given away following her grandmother's death. Hovering somewhere between the genres of still-life and portraiture, these photos point to the ways in which people and objects become intertwined and how palpable absence can be.

Though the subject matter and visual aesthetic of the projects vary, they all involve finding or creating spaces of stillness and contemplation. Like Lisel Mueller's writing, Dröge's photographs contain an undercurrent of melancholy and encourage an imaginative and sensitive examination of self, family, private space, and loss.

Mirjam Dröge lives and works in Berlin, Germany. This is her first exhibition in the United States, and it has been generously supported by the Institut für Auslandsbeziehungen, Germany.
Supported by the Institut für Auslandsbeziehungen, Germany