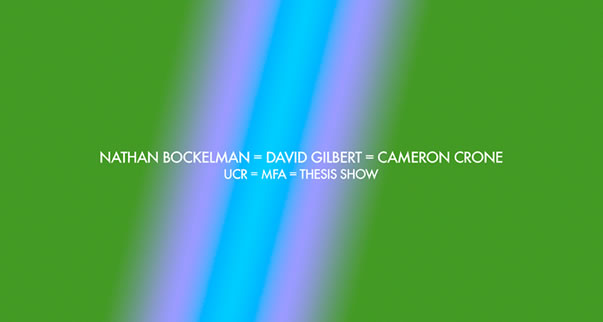 MFA Thesis Show
Sweeney Art Gallery
April 19 - May 7, 2011
| | |
| --- | --- |
| Opening Reception | Saturday, April 16, 2011, 6pm - 9pm |
UCR Sweeney Art Gallery presents the annual MFA Thesis Show 2011 with works by three graduating Master of Fine Arts students in UCR's Department of Art: Cameron Crone, Nathan Bockelman, and David Gilbert. The exhibition will consist of photo-based work, sculptures, video, and performances. It will be the first MFA thesis exhibition in Sweeney Art Gallery's new location within the recently opened Culver Center of the Arts.

These students join the ranks of Master of Fine Arts graduates from art departments and art schoolsacross Southern California, a region that has become known for transforming its art students into major players on the international art scene. UCR's thesis exhibition is distinctive because it is the only graduate student exhibition in Southern California presented in an off-campus, public setting. Raising the bar of professionalism through public presentations not only assists students in their future careers, but also exemplifies the value UC Riverside places on the unique role of art in linking campus and community, said Tyler Stallings, artistic director of the Culver Center of the Arts and director of the Sweeney Art Gallery. The distinguished full-time faculty in UCR's Art Department includes department chair Charles Long, John Divola, Jill Giegerich, Jim Isermann, Brandon Lattu, Erika Suderburg, Melissa Thorne and Amir Zaki.

The exhibition is organized by UCR Sweeney Art Gallery and curated by Amir Zaki, associate professor in art, and Jennifer Frias, associate curator of UCR Sweeney Art Gallery. An onlinecatalog of the exhibition is available at http://sweeney.ucr.edu. Support is provided by University of California, Riverside's Department of Art, College of Humanities, Arts, and Social Sciences (CHASS), and the Maxwell H. Gluck Foundation.