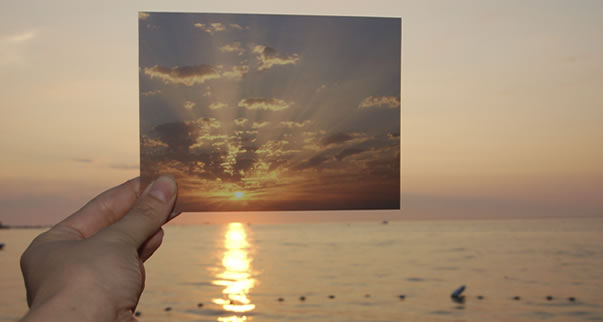 Lisa Oppenheim
Open Source
California Museum of Photography
September 26, 2009 - January 2, 2010
| | |
| --- | --- |
| Opening Reception | Saturday, September 26, 2009, 6pm - 9pm |
| Opening Reception | Saturday, September 26, 2009, 6pm - 9pm |
Lisa Oppenheim utilizes archival material to consider how history is understood in the present. Open Source features three projects by this New York-based artist, emphasizing the materiality of photographs, the public circulation of images, and the power of bringing what was previously overlooked into view.

In Killed Negatives: After Walker Evans, Oppenheim accesses Evans' Depression-era negatives, now part of the Farm Security Administration photographic archive in the Library of Congress. Rather than focus on Evans' famous images, she turns her attention to those deemed undesirable. The negatives that were considered unfit to print were 'killed' when editors punched holes through them. Oppenheim treats these holes as spaces of possibility, and imagines contemporary ways to fill the historical gaps. Similarly, in Damaged: Photographs from the Chicago Daily News 1902-1933, the artist gathers negatives from this early 20th-century newspaper that have been damaged over time. Printing only the flaws, cracks, and gaps, she then pairs the abstracted images with their original captions.

The third project, The Sun Is Always Setting Somewhere Else, is a 35mm slideshow in which the artist holds photographs of sunsets up in front of the sun setting in New York. These seemingly banal sunsets-within-a-sunset take on a particular charge when we learn that they were made by soldiers stationed in Iraq. This piece, like the others on view, involves a material and temporal shift. The work asks us to reconsider significant events, the photographs that attempt to record them, and all that lies beyond the photographic frame.