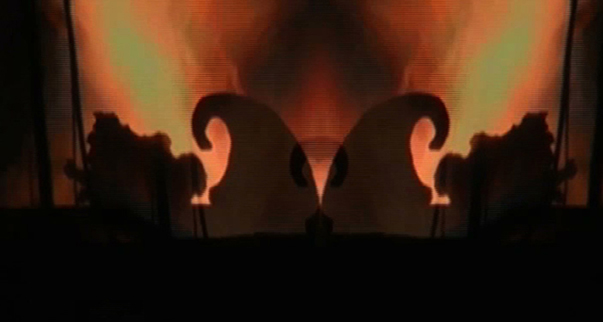 J no.e Parker: The Elements
Culver Center Digital Mural Projects 2015-2016
Culver Center of the Arts
July 31 - August 29, 2015
Admission to the opening reception is free to the public.
| | |
| --- | --- |
| Reception in conjunction with Parker's solo exhibition, "Composing [De]Composition" at the Sweeney Art Gallery | Saturday, June 27, 2015, 6pm - 9pm |
In The Elements, Parker pairs the elements of Water, Wind, Earth and Fire together with an associated Indonesian Hindu-Buddhist deity: Water :: Uma; Wind :: Bayu; Earth :: Sri; Fire :: Agni. Layering imagery from her own hometown of Brigantine Beach, New Jersey and footage recorded while living on the islands of Bali and Java in Indonesia, Parker attempts to create a meta-narrative addressing issues of environmental and economic sustainability.
In addition to The Elements, J. no.e Parker's solo exhibition, Composing [De]Composition will be on view at the Sweeney Art Gallery from June 27 through October 17. Composing [De]Composition joins the seemingly unconnected practices of home composting, data collection, and music composition into a research-based, new media artwork. Parker's interest in creating integrative works that explore new pathways through interconnections between visual art, sound, music, science, and technology, has inspired her to repurpose Sweeney Art Gallery as an active BioArt research lab, and addresses issues such as pollution and environmental sustainability from a localized perspective. Throughout the summer, temperature data, generated by an on-site compost pile, will be collected continuously and translated into a soundscape. The project reflects Parker's varied interests in data sonification, which creates sound of out of data; in maintaining an indoor composting environment; and in translating the data into a body of music that will be performed toward the end of the exhibition on October 8th. In essence, compost, a complex living material, becomes for Parker a multi-faceted activator for regenerating soil and generating new music.

J. no.e Parker has been an electronic musician and DJ since 1992. She earned her B.S. in Textiles and Apparel Design from Cornell University, and her MFA in Digital Art and New Media, at UC Santa Cruz in 2007, focusing on live non-idiomatic improvisation between electronic and gamelan instruments. From 2003-2005, she studied Javanese and Balinese gamelan along with Sundanese drumming at the Indonesian National Conservatory of Art in Yogyakarta, Java while on a Darmasiswa grant from the Indonesian Government.  She received a Culver Arts Research Laboratory Residency in 2012, and she is currently completing her PhD in Digital Music Composition with a focus in interdisciplinary composition and the sonification of data at UC Riverside.

J no.e Parker: Composing [De]Composition is organized by UCR ARTSblock and is curated by Tyler Stallings, Artistic Director of the Culver Center of the Arts and Director, Sweeney Art Gallery. Jennifer Frias, Associate Curator, Sweeney Art Gallery, curated J no.e Parker: The Elements, as part of the Culver Center Digital Mural Project 2015-2016 series.
The Culver Center Digital Mural Project at UCR ARTSblock's Culver Center of the Arts presents a series of changing projects on the two screens inside the façade's glass kiosks that face the pedestrian mall. These projects are an opportunity to extend ARTSblock programming into the public space.

 UCR's College of Humanities, Arts and Social Sciences (CHASS) and the City of Riverside have provided support.


(Image) J. no.e Parker, "The Elements - Fire" (video still), 2015