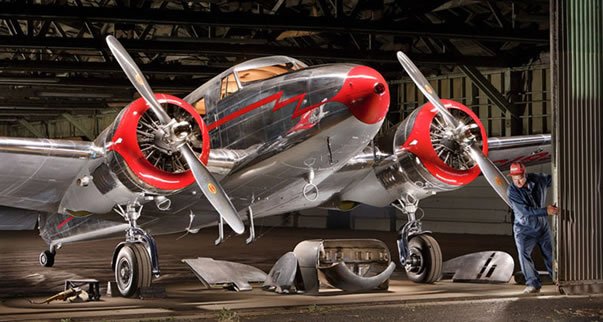 Eric Curry
Newer Topographics: Photographs of Digitally-Altered Urban Landscapes
California Museum of Photography
April 26 - July 5, 2008
| | |
| --- | --- |
| Opening Reception | Saturday, April 26, 2008, 7pm - 9pm |
Eric Curry's exhibition American Pride and Passion large-scale photographic prints focus on classic American automobiles, airplanes, and huge road machinery to "bring out the pride and passion in everyday objects". Each image is constructed by combining and layering multiple exposures. Each exposure renders only a small part of a gigantic scene, but is exquisitely lit with a keen eye toward textural and dimensional rendition, color saturation, and visual clarity. When combined in a single image we are confronted with a hyperreal, high-resolution version of the world, more clearly focused and more viscerally intense than our experience of reality itself.

American Pride and Passion is paired with Jeremy Kidd: Hyper Architectural Typologies. In these related exhibitions Eric Curry and Jeremy Kidd carefully assemble multiple images to construct new compositions of large spaces, objects and architectural elements. These digital prints push the boundaries of the way in which objects, space and architecture have traditionally been recorded; they offer new ways of seeing urban forms, powerful machinery, and manmade structures. They offer a 21st century update of the classic exhibition of 1975, "New Topographics: Photographs of a Man-Altered Landscape".
Exhibition support by Samy\'s Camera, Los Angeles.