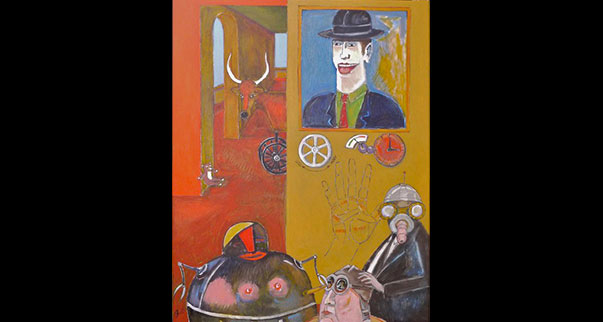 Ecce Homo
The Paintings of Edward Beardsley
Sweeney Art Gallery
October 20 - December 14, 2012
| | |
| --- | --- |
| Opening Reception | Saturday, October 20, 2012, 6pm - 9pm |
CONVERSATION WITH THE ARTIST + BOOK SIGNING: 6-6:30 PM

Ecce Homo: The Paintings of Edward Beardsley presents a survey of recent paintings together with a suite of prints produced over many decades. Beardsley was the founding director of the UCR/California Museum of Photography in 1973. At University of California, Riverside, he both taught as a member of the Studio Art faculty and was Dean of the Division of Fine Arts in the College of Humanities. In the 60s and 70s, Beardsley was also associated with the Southern California vanguard music scene. A close friend of Frank Zappa, one of Beardsley's paintings was used as the debut album cover by Alice Cooper, a band that Zappa had signed with his Reprise Records label in 1968. This exhibition features Beardsley's recent paintings from the Ecce Homo series and from the extended project of drawings, Monsieur Souris.

October, the second anniversary of the opening of the Culver Center, is an appropriate time to honor Ed Beardsley at ARTSblock, which continues to be animated by his vision for a progressive, ideas driven, multidisciplinary, challenging institution. While Ed has always been a painter, he understood the importance of establishing a major photography institution and he reached out to such photographers as Joe Deal and such interdisciplinary artists as James Turrell to help initiate the California Museum of Photography.

"Beardsley's works," David Flaten has written, "are informed by a rich tradition of European painting, that would include the political and satirical work of George Grosz, the dark side of Hieronymus Bosch and Egon Schiele, and the playfulness of a tradition labeled by the Nazis as 'degenerate art.' But Ed is not limited by either intellectual or social agendas, though he is both an exquisitely informed intellectual and a social activist. His images are disturbing and amusing, at times taking on dark subjects with both humor and with anger. His paintings are not conclusions, not an op-ed page summary, but robust challenges delivered with sometimes carnival-like playfulness."

Ed Beardsley will be present at the reception. Conversation with the artist, 6-6:30 PM.

This exhibit is accompanied by the gallery presentation of the short film "This Is Beardsley" by Michael Papavero and the publication of two limited-edition books, Ecce Homo and Monsieur Souris, printed especially for this occasion. The books will be available at the Reception and Ed will be available to sign copies.

This exhibition is organized by UCR ARTSblock and curated by Jonathan Green, Executive Director, ARTSblock, University of California, Riverside.
Sweeney Art Gallery