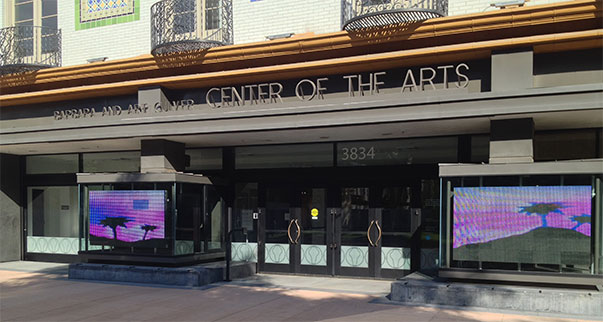 Digital Mural Projects
Rich Bott
Culver Center of the Arts
July 21 - August 17, 2014
| | |
| --- | --- |
| First Thursday Artwalk, Free Admission | Thursday, August 7, 2014, 6pm - 9pm |
Rich Bott's project for the Culver Center's Digital Mural is a collage of various media companies' animated graphic identities re-edited into moving abstractions just on the edge of recognition. These videos rethink the experience of nostalgia as the feeling of almost remembering and act as a bridge from Bott's well-known work in found video footage inspired by artists Bruce Conner and Craig Baldwin and his newer projects in abstract animation
Bott is one-half of the artist collaborative team called Animal Charm. Together with his colleague Jim Fetterly, Bott began using found VHS tapes to make video collages in 1995. With the advent of YouTube a decade away, the artists culled bins of dead and devalued media, including industrial and promotional videos, bargain vinyl LPs, and consumer-grade electronics. They then combined disparate footage, using early nonlinear video-editing software, to create unsettling and humorous works. The duo composes unexpected juxtapositions in an attempt to subvert the original intentions of the found videos and to expose their absurdity while eliciting new meanings from the detritus of culture.
The Culver Center Digital Mural Project Series is curated by adjunct media curator Jeff Cain. He is faculty at the USC Roski School of Art and Design, and director of the Shed Research Institute.
The Culver Digital Mural Project at UCR ARTSblock's Culver Center of the Arts presents a series of changing projects on the two screens inside the façade's glass kiosks that face the pedestrian mall. These projects are an opportunity to extend ARTSblock programming into the public space.
UCR's College of Humanities, Arts and Social Sciences (CHASS) and the City of Riverside have provided support.