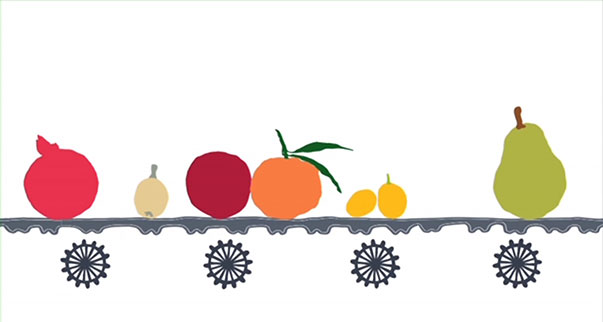 DIGITAL MURAL PROJECT
DANIELLE ADAIR: And I Think I Like It
Culver Center of the Arts
June 5 - June 22, 2014
Videos include:
I Can Feel Your Teeth (duplicate)
What Do You Do (left)
Sincerely (right)
Danielle Adair is a performance-based artist whose projects result in a variety of media including video, painting, live performance, and text. Her work is constructed on personal responses to complex political issues and histories, so that the larger cultural narratives are broken down by individual experience.
These videos are part of a series of thirteen "video song poems" that mix hand drawing with digital animation. When theatrically screened, the videos are accompanied by live performance of text and sound. Here on the Culver Center Digital Mural, Adair remixed three of her videos so that they would play silently against each other for the public to create new poetic and personal meanings.
Adair lives and works in Los Angeles and her video-performance works have shown in exhibition and screening venues internationally – Manila, Cologne, London, New York, Paris – and she has performed within Southern California at such venues as The Velaslavasay Panorama Theater, Human Resources, The Smell, and Beyond Baroque. Adair is the author of From JBAD: Lessons Learned (Les Figues Press) based on her time as embedded media with US Forces in Afghanistan, and other writing has appeared in the 30<30: Anthology of Innovative Fiction (Starcherone Books) and Imaginary Syllabi (Palm Press), among others. In 2012-13 Adair was a Fellow in Film/Video/New Media at the Akademie Schloss Solitude, Stuttgart, and currently she is creating an experimental opera for the Musikhochschule Stuttgart.
The Culver Center Digital Mural Project Series is curated by adjunct media curator Jeff Cain. He is faculty at the USC Roski School of Art and Design, and director of the Shed Research Institute.
The Culver Digital Mural Project at UCR ARTSblock's Culver Center of the Arts presents a series of changing projects on the two screens inside the façade's glass kiosks that face the pedestrian mall. These projects are an opportunity to extend ARTSblock programming into the public space.
UCR's College of Humanities, Arts and Social Sciences (CHASS) and the City of Riverside have provided support.