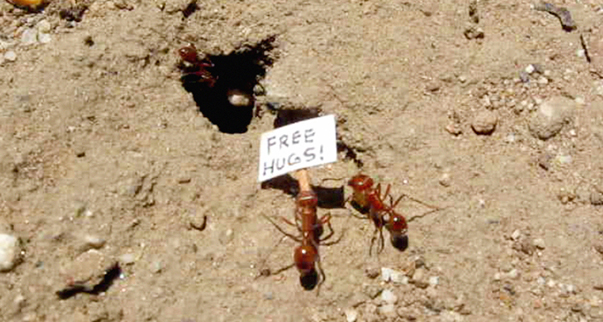 Dan Daino Torres: Free Hugs
Culver Center Digital Mural Projects 2015-2016
Culver Center of the Arts
March 5 - April 6, 2015
Admission to the opening reception is free to the public
| | |
| --- | --- |
| Reception | Thursday, March 5, 2015, 6pm - 9pm |
Free Hugs chronicles artist Dan "Daino" Torres's encounter with a colony of ants living in the dirt outside of his studio in Riverside. Rather than displacing them from his space, the artist joins their network producing an ongoing performative project. Torres' collaborative effort by inserting small replicas of protests signs into the colony's repetitive motions, result in abstracting the human gaze, as well as disrupting the ants' daily routine. The video is a chapter of a larger body of work by Torres entitled, We Come In Peace.


Dan "Daino" Torres received a BFA at Cal Arts in Valencia, California. He has been featured in selected exhibitions at the Whittier Cultural Art Foundation (Whittier, CA), SomArts Bay Gallery (San Francisco, CA), Spaces Gallery (Cleveland, OH), Sweeney Art Gallery (Riverside, CA) and Cerritos College Art Gallery (Cerritos, CA). He works and lives in Riverside, CA.

The Culver Center Digital Mural Project Series is curated by Jennifer Frias, Associate Curator, Sweeney Art Gallery at UCR ARTSblock. The Culver Center Digital Mural Project at UCR ARTSblock's Culver Center of the Arts presents a series of changing projects on the two screens inside the façade's glass kiosks that face the pedestrian mall. These projects are an opportunity to extend ARTSblock programming into the public space. UCR's College of Humanities, Arts and Social Sciences (CHASS) and the City of Riverside have provided support.




(Image) Dan "Daino" Torres, "Free Hugs," (video still), 2013