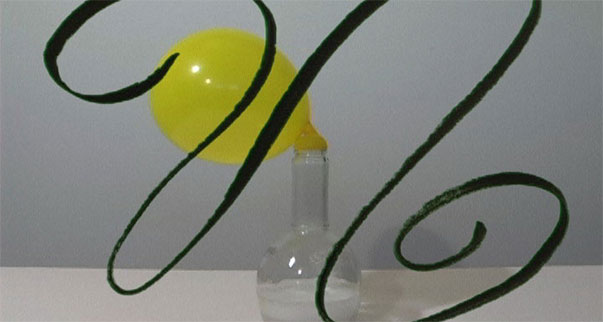 CULVER DIGITAL MURAL PROJECT
LAURA RIBOLI
Culver Center of the Arts
August 18 - September 14, 2014
Untitled (hot cold), 2014
Color Standard Definition video with sound
5:22 min
Untitled (hot cold) is a series of vignettes depicting rudimentary scientific experiments that present cause and effect. Layered on top of these events, an arm comes into the picture plane, as if on top of the video screen, and begins making marks as the experiments play out. These performative gestures transform the empirical narratives. Each series of marks remain abstract, while also exemplifying various states of intention or volition. A quasi-chalk board is gleaned, questioning the advancement of knowledge through abstracted visual means. The juxtaposition emphasizes the subjectivity of the viewer, questioning modes of interpretation.
Laura Riboli's art works explore the way in which formal abstraction is understood through the body, in time. Often employing the look of science fiction, the works examine the perceptual machinations by which we come to understand physical properties and virtual experiences.
Laura Riboli's work has been included in exhibitions at The Hammer Museum (Los Angeles), Taxter & Spengemann (New York), LACMA (Los Angeles), Laura Bartlett Gallery (London), and Museo d'Arte Contemporanea Roma (Rome). She is represented by Wallspace, New York. She lives and works in Los Angeles.


The Culver Center Digital Mural Project Series is curated by adjunct media curator Jeff Cain. He is faculty at the USC Roski School of Art and Design, and director of the Shed Research Institute.

The Culver Digital Mural Project at UCR ARTSblock's Culver Center of the Arts presents a series of changing projects on the two screens inside the façade's glass kiosks that face the pedestrian mall. These projects are an opportunity to extend ARTSblock programming into the public space.

UCR's College of Humanities, Arts and Social Sciences (CHASS) and the City of Riverside have provided support.