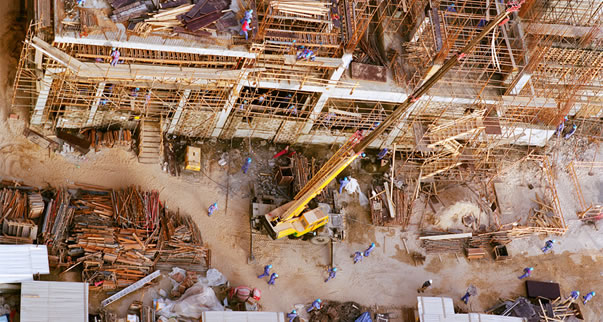 Connie Samaras
After the American Century
California Museum of Photography
February 5 - April 16, 2011
| | |
| --- | --- |
| Opening Reception | Saturday, February 5, 2011, 6pm - 9pm |
After the American Century is a series of photographs and videos shot at the start of the worldwide economic downturn in December 2008 and March 2009. The project looks at the building of Dubai, United Arab Emirates as a futuristic city designed as a playground of hyper-consumer excess for the über rich and a global capitalist haven orbiting high above the regulatory laws of nation states.

Dubai brands itself as a far future nestled against a distant, unchanging past (the Arabian desert). Samaras' interest is in visually revealing the immediate obsolescence inherent in laying such a claim to the future. The photographs are shot in different styles as well as in many locations off limits to cameras in an attempt to undo Dubai's self-branding and reveal the dystopic probabilities that drift beneath utopic constructs. She depicts massive building projects yet to be inhabited, fountains spewing water against the desert terrain, labor camps, and fleets of uniformed workers negotiating dangerous conditions.

After the American Century is the third series in a fin de siècle/new millennium project looking at built environments, speculative landscapes, and global capitalism. The previous projects include Angelic States - Event Sequence (1998-2003), shot in Los Angeles, Las Vegas, and New York, and V.A.L.I.S. - vast active living intelligence system (2005), made at the South Pole, Antarctica.

This exhibition coincides with UC Riverside's annual Eaton Science Fiction Conference (February 11-13, 2011) at which Samaras will be giving a paper about her artwork and its relationship to differing tropes of future imaginaries.
UCR/California Museum of Photography