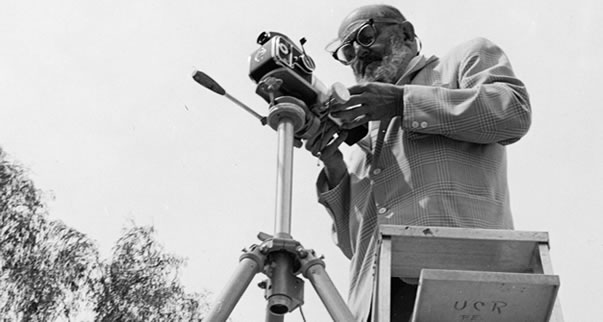 Ansel Adams at Work
The Fiat Lux Commission
California Museum of Photography
February 6 - May 15, 2010
| | |
| --- | --- |
| Opening Reception | Saturday, February 6, 2010, 6pm - 9pm |
| Opening Reception | Saturday, February 6, 2010, 6pm - 9pm |
Besides his personal work as a nature photographer - his art - Ansel Adams took commercial assignments in order to support himself. Among these was a commission from the University of California to produce a book celebrating its centennial in 1968. The subject was the nine campuses that then comprised the UC system - Berkeley, San Francisco, Davis, Los Angeles, Santa Barbara, Riverside, San Diego, Santa Cruz and Irvine - and the book's title was UC's motto, Fiat Lux (Let There Be Light).

This exhibition is drawn from prints made for that book and a subsequent publication done in 1990, after Adams' death. The prints that Adams himself created for this project were primarily intended for reproduction in the book, not exhibition in a gallery or museum. They are lighter and less contrasty than his fine prints were at this point in his career because, otherwise, the limitations of the printing technology of the day would have caused the reproductions to become muddy in the dark areas. Still, these prints were made with the same care and calculation he exercised on any project he undertook, and in that sense they are as fair a representation of Adams at work.

The project also enlarges our sense of Adams' career by showing us not only the talent he had for genres other than nature photography, such as portraiture, but also the ways in which he adapted his landscape aesthetic to the subject of the UC's campuses and agricultural stations.